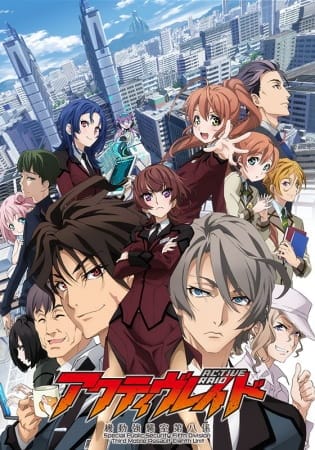 Overview:
In a futuristic, post-disaster Tokyo, the "Special Public Security Fifth Division Third Mobile Assault Eighth Unit," or "Unit Eight," is a police unit specializing in handling criminals who wield dangerous wearable technology called "Willwear." Equipped with Willwear of their own, the squadron is often criticized by the public for their carelessness and disregard for protocol. Sent in by the government as an undercover agent with special instructions from the higher-ups, Asami Kazari is Unit Eight's newest member. Determined to straighten out what she expects to be a group of incompetent fools, she instead finds a team of well-intentioned experts who use very effective—albeit unorthodox—methods, hindered by strict regulations. With their newest member by their side, Unit Eight fights crime and overcomes unexpected adversaries in Active Raid: Kidou Kyoushuushitsu Dai Hachi Gakari. [Written by MAL Rewrite]
Rate:

PG-13 - Teens 13 or older

Native:

Active Raid: Special Public Security Fifth Division Third Mobile Assault Eighth Unit

Synonyms:

アクティヴレイド -機動強襲室第八係-

Aired:

Jan 7, 2016 to Mar 24, 2016

Premiered:

winter 2016

Duration:

24 min per ep

Episodes:

12

Score:

5.86

Producers:

Fields flying DOG Magic Capsule Sotsu

Studio:

Production IMS
Characters and Voice Actors
Shimazaki, Nobunaga
Japanese
Sakurai, Takahiro
Japanese
Furukawa, Makoto
Japanese
Defense Minister
Supporting
Nishimura, Taisuke
Japanese
Tezuka, Hiromichi
Japanese
Yamashita, Daiki
Japanese
Dr. Kasumigaseki
Supporting
Saitou, Hironori
Japanese
Fukamura, Shouta
Supporting
Nojima, Hirofumi
Japanese
Funasaka, Yasuharu
Supporting
General Affairs Minister
Supporting
Governor's Secretary
Supporting
Hachijou, Tomoki
Supporting
Hoshimiya, Haruka
Supporting
Ishigami, Shizuka
Japanese
Inagi, Koutarou
Supporting
Midorikawa, Hikaru
Japanese
Kobari, Masataka
Supporting
Koyasu, Takehito
Japanese
Kominato, Eriko
Supporting
Kurosawa, Tomoyo
Japanese
Manabe, Youichi
Supporting
Nakamura, Kazumasa
Japanese
Misaki, Daisuke
Supporting
Matsumoto, Shinobu
Japanese
Shiratori, Tetsu
Japanese
Ooshikouchi, Miho
Supporting
Parliamentarian
Supporting
Prime Minister
Supporting
Kinoshita, Hiroyuki
Japanese
Toriumi, Kousuke
Japanese
Kijima, Ryuuichi
Japanese
Shimura, Makoto
Supporting
Yasumoto, Hiroki
Japanese
Shinjuku Police Station, Chief
Supporting
Higashiuchi, Mariko
Japanese
Terao, Kazuyoshi
Supporting
Hoshino, Mitsuaki
Japanese
Transport Minister
Supporting
USDF Superior Officer
Supporting
Yamabuki, Hinata
Supporting
Show All
Downloads
No Download available.