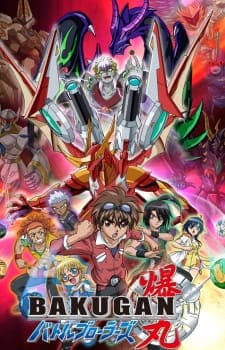 Overview:
Bakugan Interspace is a virtual reality system, where players can brawl against each other and take part in tournaments. Initially designed to help practice and enhance Bakugan skills, it quickly became a meeting place for many enthusiasts. During one of Danma Kuusou's duels, the Interspace crashes, and he gets knocked out cold. Before regaining consciousness, he experiences a vision of Bakugan at war with each other once again. The explosion of energy that accompanied Danma's fight and caused the shutdown of the system sends shock waves across the galaxy, attracting the attention of the Twelve Orders, a Gundalian organization. They infiltrate Bakugan Interspace, looking for strong brawlers to join them in their upcoming war with another alien race, the Neathians. Danma and his companions—Shun Kazami and Chouji Marukura—soon find themselves caught up in an extraterrestrial war. However, distant as it may seem, the conflict threatens the very sovereignty of Earth and the future of the Bakugan race as well. [Written by MAL Rewrite]
Characters and Voice Actors
Nojima, Hirofumi
Japanese
Masutani, Yasunori
Japanese
Barodius's Father
Supporting
Miyasaka, Shunzou
Japanese
Suzuki, Tatsuhisa
Japanese
Dragonoid Colossus
Supporting
Kosugi, Juurouta
Japanese
Nakamura, Yuuichi
Japanese
Midorikawa, Hikaru
Japanese
Toochika, Kouichi
Japanese
Heyward, Julie
Supporting
Kawahara, Yoshihisa
Japanese
Igarashi, Hiromi
Japanese
Midorikawa, Hikaru
Japanese
Hoshi, Souichirou
Japanese
Show All
Downloads
No Download available.