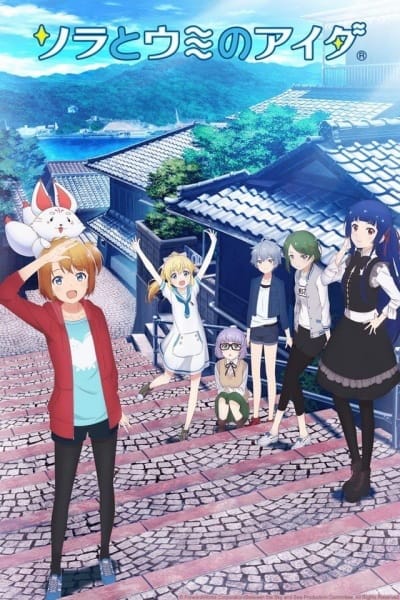 Overview:
In the future in Onomichi, Hiroshima fish disappear from the sea around the world and only whales live in the ocean. The Ministry of Fishery decides to set up giant experimental Universe Fish Tanks in space. The Onomichi Universe Fishery Union is established and begins to train space fishermen. Female fishermen are in demand due to the strengthening of an equal employment law for men and women. Six new female space fishermen are selected, and the story centers on supporting their growth. Hashtags: Between the Sky and Sea, Sora to Umi no Aida, ソラとウミのアイダ
Rate:

PG-13 - Teens 13 or older

Native:

Sora to Umi no Aida

Synonyms:

ソラとウミのアイダ

Aired:

Oct 4, 2018 to Dec 20, 2018

Premiered:

fall 2018

Duration:

23 min per ep

Episodes:

12

Score:

5.65

Producer:

Half H.P Studio

Studio:

TMS Entertainment

Licensor:

Sentai Filmworks
Characters and Voice Actors
Takahashi, Karin
Japanese
Kagiya, Atsushi
Supporting
Kazamatsuri, Jouji
Supporting
Sakurai, Takahiro
Japanese
Mamiana, Koujirou
Supporting
Horiuchi, Kenyuu
Japanese
Narumi, Takako
Supporting
Sakura, Yuudai
Supporting
Show All
Downloads
No Download available.
Tags: 4anime, 9anime, anime dao, anime tv, anime x play, animedao, animeflix, animekisa, animepahe, animixplay, Between the Sky and Sea, dubbed anime, free anime, gogoanime, kickassanime, kiss anime, kissanime, netflix anime, new anime, Sora to Umi no Aida, watch anime free, watch anime free online, watch anime online, zoro anime, zoro.to, zoro.to anime, ソラとウミのアイダ