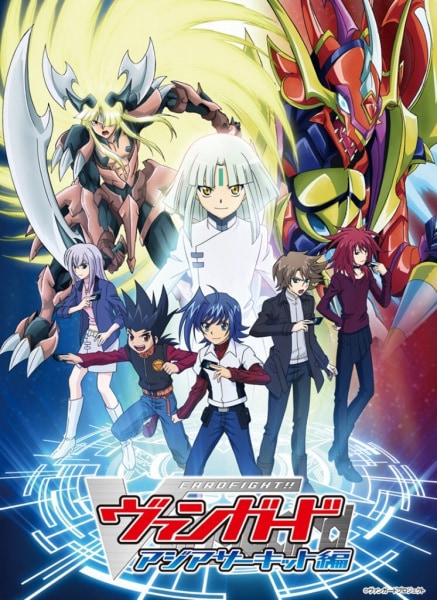 Overview:
Following their intense battle in the national tournament, Team Q4 disbands, with everyone returning to their regular lives. While paying a visit to Card Capital, Aichi Sendou notices an unfamiliar customer in the shop. After teaching the secretive boy about Cardfight Vanguard, he realizes that his usual deck has become entirely different. Although it contains a variety of units Aichi has never seen before, everyone insists that the cards are the same ones that he has always been using. Moreover, the strange boy disappears without a trace, leaving Aichi further puzzled. As Aichi gets accustomed to the new bizarre deck, he aims to unravel the mystery behind the incident and the peculiar boy. [Written by MAL Rewrite]
Rate:

PG-13 - Teens 13 or older

Native:

カードファイト!! ヴァンガード アジアサーキット編

Synonyms:

Cardfight!! Vanguard: Asia Circuit Chapter

Aired:

Apr 8, 2012 to Jan 2, 2013

Premiered:

spring 2012

Duration:

24 min per ep

Episodes:

39

Score:

6.79

Studio:

TMS Entertainment

Genres:

Action Adventure Mythology Shounen Strategy Game
Characters and Voice Actors
Ishikawa, Shizuka
Japanese
Chen, Sharlene
Supporting
Daimonji, Nagisa
Supporting
Daimonji, Gouki
Supporting
Yamaguchi, Takayuki
Japanese
Lo, Christopher
Supporting
Mitsusada, Kenji
Supporting
Morikubo, Shoutarou
Japanese
Morikawa, Katsumi
Supporting
Sugiyama, Noriaki
Japanese
Nabatame, Hitomi
Japanese
Shinjou, Tetsu
Supporting
Suzugamori, Ren
Supporting
Tatsunagi, Kourin
Supporting
Tatsunagi, Rekka
Supporting
Tatsunagi, Suiko
Supporting
Makiguchi, Mayuki
Japanese
Show All
Downloads
No Download available.