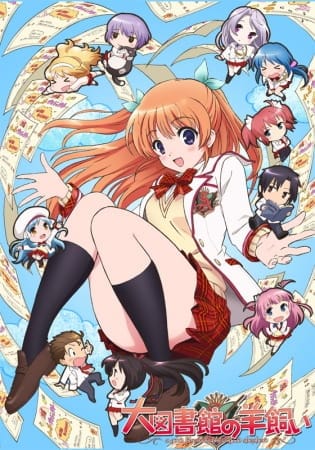 Overview:
"The Shepherd," an urban legend of Shiomi Academy, is said to appear before hardworking students to grant them a wish. While engrossed in a book inside the school's renowned Great Library, Kyoutarou Kakei, a second year student and the Library Club's de facto president, receives an email from the Shepherd foretelling an event that will change his fate. Worried by the message, Kyoutarou rushes over to a nearby train station and encounters fellow student Tsugumi Shirasaki, whom he saves from being hit by a derailing train. Grateful for his heroic actions, Tsugumi joins the Library Club and invites Kyoutarou to participate in her mysterious "Shiomi Happy Project." Together with other new members of the club, they strive to make the academy a better place and uncover the identity of the enigmatic Shepherd. [Written by MAL Rewrite]
Characters and Voice Actors
Tanezaki, Atsumi
Japanese
Yamamoto, Nozomi
Japanese
Yonezawa, Madoka
Japanese
Tsuruoka, Satoshi
Japanese
Kakei, Asahiko
Supporting
Kusunoki, Taiten
Japanese
Mochizuki, Maho
Supporting
Serizawa, Miyu
Supporting
Shirasaki, Sayori
Supporting
Takamine, Ikkei
Supporting
Morikubo, Shoutarou
Japanese
Ureshino, Sayumi
Supporting
Kashiwagi, Miyuu
Japanese
Show All
Downloads
No Download available.