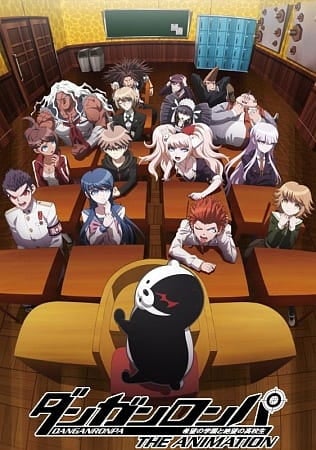 Overview:
Makoto Naegi, a teenager with no remarkable talent, is surprised to learn that he has been accepted into Hope's Peak Private Academy: an elite school that gathers the best students from various fields. Despite believing his admission was just a fluke, Naegi is delighted to attend an institution known for ensuring success to those who graduate. Determined, he enters the front doors of the prestigious academy. However, after losing consciousness inside, Naegi wakes up in a seemingly abandoned classroom. Failing to comprehend how he got there, Naegi begins to explore, and to his surprise, finds his classmates assembled in the gym. While everyone is trying to figure out what happened, they are confronted by the school principal—Monokuma, a robotic teddy bear. The mysterious toy explains that the freshmen are trapped inside the school with only one means of escape—kill a classmate without being discovered. Tension fills the air as Naegi and his classmates realize that they are faced with two choices: participate in Monokuma's killing game, or reside together in the school for the rest of their lives. [Written by MAL Rewrite]
Rate:

R - 17+ (violence & profanity)

Native:

ダンガンロンパ 希望の学園と絶望の高校生 THE ANIMATION

Synonyms:

Dangan Ronpa: The Animation

Aired:

Jul 5, 2013 to Sep 27, 2013

Premiered:

summer 2013

Duration:

24 min per ep

Episodes:

13

Score:

7.22

Studio:

Lerche

Licensor:

Funimation
Characters and Voice Actors
Enoshima, Junko
Supporting
Toyoguchi, Megumi
Japanese
Fujisaki, Chihiro
Supporting
Sawashiro, Miyuki
Japanese
Hagakure, Yasuhiro
Supporting
Matsukaze, Masaya
Japanese
Ikusaba, Mukuro
Supporting
Ishimaru, Kiyotaka
Supporting
Toriumi, Kousuke
Japanese
Sakurai, Takahiro
Japanese
Ludenberg, Celestia
Supporting
Maizono, Sayaka
Supporting
Oogami, Sakura
Supporting
Togami, Byakuya
Supporting
Yamada, Hifumi
Supporting
Yamaguchi, Kappei
Japanese
Show All
Downloads
No Download available.