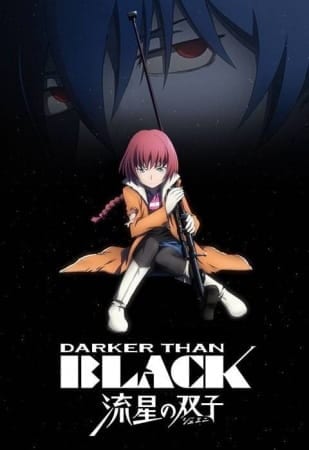 Overview:
One night, as meteors streak across the star-studded sky, Shion Pavlichenko becomes a Contractor. Despite her brother's transformation, Shion's twin sister Suou continues to live a fairly ordinary life, attending middle school with her friends and getting caught up in the awkwardness of growing up. However, everything changes when her home is invaded by a masked man cloaked in black, destroying any sense of normality she once had. Revealed to possess latent Contractor abilities of her own, Suou is caught between family, friends, and her own sense of purpose as she ventures into the ruthless world of cutthroats and espionage that Contractors call home. Meanwhile in Tokyo, investigation surrounding Hell's Gate's sudden collapse is underway, and prophetic signs of doom point in the direction of a silver-haired doll. [Written by MAL Rewrite]
Rate:

R - 17+ (violence & profanity)

Native:

DARKER THAN BLACK 流星の双子

Synonyms:

Darker than BLACK 2nd Season, Darker than BLACK Second Season, DTB2

Aired:

Oct 9, 2009 to Dec 25, 2009

Premiered:

fall 2009

Duration:

24 min per ep

Episodes:

12

Score:

7.44

Studio:

Bones

Licensor:

Funimation

Genres:

Action Mystery Sci-Fi Super Power
Characters and Voice Actors
Kiuchi, Hidenobu
Japanese
Kawakami, Tomoko
Japanese
Matsukaze, Masaya
Japanese
Madono, Mitsuaki
Japanese
Ishizaki, Kanami
Supporting
Kobayashi, Sanae
Japanese
Kayanuma, Kiko
Supporting
Kobayashi, Gorou
Supporting
Ootomo, Ryuuzaburou
Japanese
Matsumoto, Yasunori
Japanese
Kusunoki, Taiten
Japanese
Lobanov, Nikolay
Supporting
Makimiya, Asako
Supporting
Tamagawa, Sakiko
Japanese
Pavlichenko, Mikhail
Supporting
Hori, Katsunosuke
Japanese
Pavlichenko, Shion
Supporting
Kuwashima, Houko
Japanese
Sawasaki, Youko
Supporting
Yoshizumi, Kozue
Japanese
Shizume, Genma
Supporting
Sokoloff, Ilya
Supporting
Show All
Downloads
No Download available.