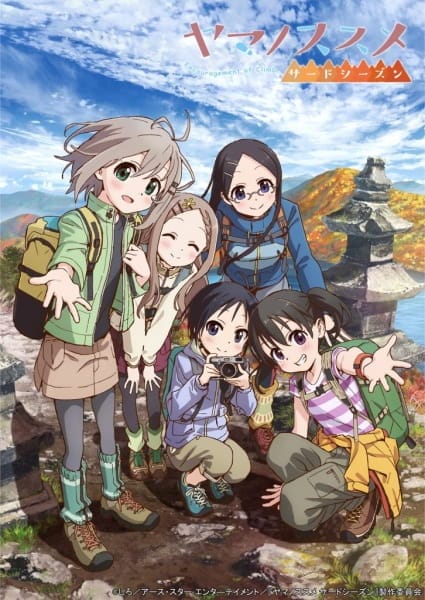 Overview:
With the conclusion of an unforgettable summer break, Aoi Yukimura remains invigorated to continue pursuing her new hobby in mountaineering. Having braved her fear of heights and fulfilled her childhood promise with Hinata Kuraue, any opportunity to go climbing intrigues the first-year high school student—including a second chance to reach the summit of Mt. Fuji. Although the formidable yet exciting trip is planned for next summer, Aoi is already preparing as much as she can to guarantee her success this time around. However, as budding expectations blossom with the shift of the seasons, ascending the unexplored peaks of colorful endeavors begins to strain the bond between the two longtime friends and the perspectives they share of the future. [Written by MAL Rewrite] Hashtags: Encouragement of Climb Season 3, Encouragement of Climb Third Season, Yama no Susume 3,ヤマノススメ サードシーズン
Characters and Voice Actors
Kuraue, Kenichi
Supporting
Kurosaki, Honoka
Supporting
Onozuka, Hikari
Supporting
Sasahara, Yuuka
Supporting
Imaruoka, Atsushi
Japanese
Yukimura, Megumi
Supporting
Show All
Downloads
No Download available.
Tags: 4anime, 9anime, anime dao, anime tv, anime x play, animedao, animeflix, animekisa, animepahe, animixplay, dubbed anime, Encouragement of Climb Season 3, Encouragement of Climb Third Season, free anime, gogoanime, kickassanime, kiss anime, kissanime, netflix anime, new anime, watch anime free, watch anime free online, watch anime online, Yama no Susume 3, zoro anime, zoro.to, zoro.to anime, ヤマノススメ サードシーズン