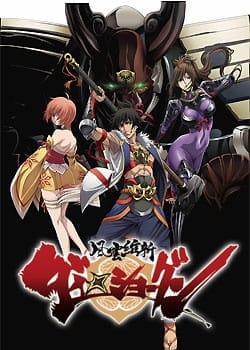 Overview:
In the late Edo period, Japan had experienced an unprecedented crisis by Kurofune (Black Ships), the ships from foreign countries. But a giant robot called Onigami, which has existed since ancient time, dispelled the Kurofune ships and the exclusion of foreigners was accomplished. The story begins in Japan where Meiji restoration in 1868 didn't happen. The tagline says, "I can be the greatest man in the world, because I am a virgin!!" (Source: Crunchyroll)
Rate:

R - 17+ (violence & profanity)

Native:

風雲維新ダイ☆ショーグン

Aired:

Apr 10, 2014 to Jun 26, 2014

Premiered:

spring 2014

Duration:

24 min per ep

Episodes:

12

Score:

5.69

Licensor:

Sentai Filmworks

Genres:

Action Historical Mecha
Characters and Voice Actors
Tokugawa, Keiichirou
Main
Kakihara, Tetsuya
Japanese
Sawashiro, Miyuki
Japanese
Yurihara, Maika
Supporting
Show All
Downloads
No Download available.