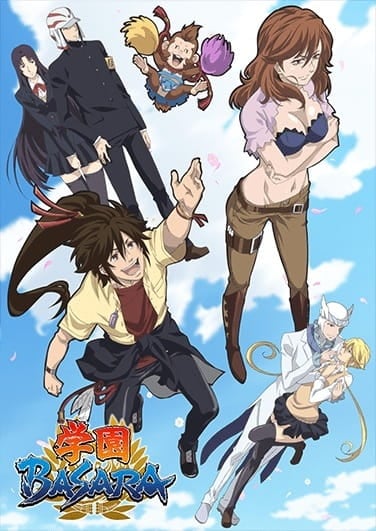 Overview:
A heated battle is once again revving up at Basara Academy between baseball star Masamune Date and soccer ace Yukimura Sanada. What's more, ever since student council chairman Hideyoshi Toyotomi received a suspension, leaving the seat up for grabs, a host of class "warlords" have become embroiled in a quest for supreme power. Amid Ieyasu Tokugawa's appeals to bonds of kinship and Mitsunari Ishida's fervor to defeat him, who will wrest ultimate control of the domain in "troubled" times? Hashtags: Gakuen Basara: Samurai High School,Gakuen Basara ,学園BASARA
Characters and Voice Actors
Hoshi, Souichirou
Japanese
Akechi, Mitsuhide
Supporting
Azai, Nagamasa
Supporting
Tsujitani, Kouji
Japanese
Chousokabe, Motochika
Supporting
Fuuma, Kotarou
Supporting
Gotou, Matabei
Supporting
Miki, Shinichiro
Japanese
Honda, Tadakatsu
Supporting
Imagawa, Yoshimoto
Supporting
Ishida, Mitsunari
Supporting
Sawashiro, Miyuki
Japanese
Kuwatani, Natsuko
Japanese
Katakura, Kojuurou
Supporting
Morikawa, Toshiyuki
Japanese
Kobayakawa, Hideaki
Supporting
Kuroda, Kanbei
Supporting
Maeda, Toshiie
Supporting
Tsuboi, Tomohiro
Japanese
Morita, Masakazu
Japanese
Mouri, Motonari
Supporting
Nakahara, Shigeru
Japanese
Ootani, Yoshitsugu
Supporting
Tachiki, Fumihiko
Japanese
Saika, Magoichi
Supporting
Sarutobi, Sasuke
Supporting
Koyasu, Takehito
Japanese
Shibata, Katsuie
Supporting
Okamoto, Nobuhiko
Japanese
Nakamura, Yuuichi
Japanese
Takeda, Shingen
Supporting
Takenaka, Hanbei
Supporting
Tokugawa, Ieyasu
Supporting
Toyotomi, Hideyoshi
Supporting
Okiayu, Ryoutarou
Japanese
Uesugi, Kenshin
Supporting
Show All
Downloads
No Download available.
Tags: 4anime, 9anime, anime dao, anime tv, anime x play, animedao, animeflix, animekisa, animepahe, animixplay, dubbed anime, free anime, Gakuen Basara, Gakuen Basara: Samurai High School, gogoanime, kickassanime, kiss anime, kissanime, netflix anime, new anime, watch anime free, watch anime free online, watch anime online, zoro anime, zoro.to, zoro.to anime, 学園BASARA