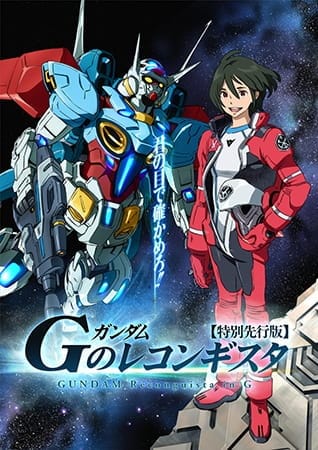 Overview:
In the year Regild Century 1014, an entire millennium has passed since the end of the fabled Universal Century, where legends like Amuro Ray and Char Aznable ruled the battlefield as ace mobile suit pilots. The Earth's surface that was once hotly contested is now mostly abandoned, with humanity preferring to live in space colonies and the surface of the moon. Capital Guard Academy student Bellri Zenam lives a peaceful academic life, but his normal days are brought to an end with the capture of pirate pilot Aida Surugan and her mobile suit G-Self. Bellri feels a strong mental connection with the G-Self and discovers that he is able to pilot it. He soon finds himself in contention with the "Capital Guard," a radical faction that follows its own secret agenda despite the wishes of the Amerian Army, who still hold power on Earth. Joining the crew of the Amerian spaceship Megafauna, Bellri and Aida must pilot the G-Self to victory against the Capital Guard and its leaders, the charismatic Colonel Kunpa Rushita and the enigmatic Captain Mask. [Written by MAL Rewrite]
Rate:

PG-13 - Teens 13 or older

Native:

ガンダム Gのレコンギスタ

Synonyms:

G-Reco

Aired:

Oct 3, 2014 to Mar 27, 2015

Premiered:

fall 2014

Duration:

24 min per ep

Episodes:

26

Score:

5.81

Studio:

Sunrise
Characters and Voice Actors
Ambassada, Manny
Supporting
Dual, Chickara
Supporting
Getty, Rockpie
Supporting
Koyasu, Takehito
Japanese
Takahashi, Chiaki
Japanese
Meinstron, Jugan
Supporting
Nicchini, Zuchini
Supporting
Kojima, Toshihiko
Japanese
Nug, Gel Trimedestus
Supporting
Kotobuki, Minako
Japanese
Morikawa, Toshiyuki
Japanese
Samatar, Dellensen
Supporting
Koyama, Tsuyoshi
Japanese
Shadam, Becker
Supporting
Kanuka, Mitsuaki
Japanese
Surugan, Gusion
Supporting
Kinoshita, Hiroyuki
Japanese
Tsuji, Shinpachi
Japanese
Show All
Downloads
No Download available.