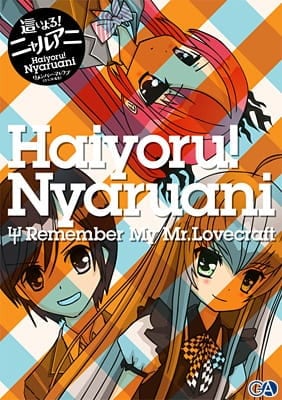 Overview:
The story centers around Nyarlko, a formless Cthulhu deity who can take on the shape of anyone it wishes, but particularly the shape of a seemingly ordinary silver-haired girl. Mahiro Yasaka is a normal high school student who is chased by aliens one night, until "Nyarlko" saves him. (Source: ANN)
Rate:

PG-13 - Teens 13 or older

Native:

這いよる!ニャルアニ リメンバー・マイ・ラブ(クラフト先生)

Synonyms:

Haiyore! Nyaruko-san, Haiyoru! Nyarl-ani: Remember My Love(craft-sensei)

Aired:

Dec 11, 2010 to Feb 26, 2011

Premiered:

winter 2011

Duration:

4 min per ep

Episodes:

11

Score:

6.24

Producer:

SoftBank Creative

Studio:

DLE
Characters and Voice Actors
Downloads
No Download available.