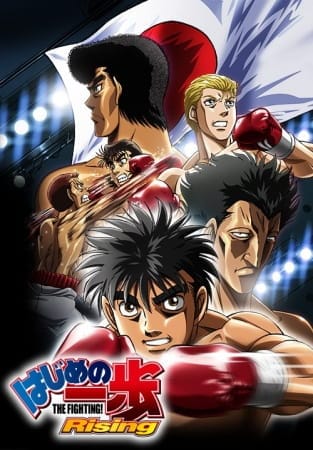 Overview:
Japanese Featherweight Champion Makunouchi Ippo has defended his title belt once more with the help of his devastating signature move: the Dempsey Roll. However, new challengers are rising up left and right, claiming to have an answer for the move responsible for crushing his opponents. Will Ippo be able to step up to the challenge, or will the weight of his pride destroy him before he finds out just what it means to be strong? Meanwhile, fellow Kamogawa Gym mate Aoki Masaru is just a hop, skip, and a Frog Punch away from claiming his own belt, ready to take on the Japanese Lightweight Champion! Hajime no Ippo: Rising continues Ippo's quest to become stronger, featuring the same cast of loveable dimwits from Kamogawa Gym, as they put their bodies and hearts on the line to make their way in the harsh world of professional boxing. With a will of iron, Ippo steps into the ring once again. [Written by MAL Rewrite]
Characters and Voice Actors
Namikawa, Daisuke
Japanese
Akamatsu, Isamu
Supporting
Fusegawa, Kazuhiro
Japanese
Anderson, Ralph
Supporting
Kosugi, Juurouta
Japanese
Funakoshi, Masashi
Japanese
Kiuchi, Hidenobu
Japanese
Hama, Dankichi
Supporting
Yasumoto, Hiroki
Japanese
Itagaki, Nanako
Supporting
Itagaki, Father
Supporting
Katsutaka, Imae
Supporting
Sakaguchi, Shuuhei
Japanese
Kizakura, Hiroshi
Supporting
Makunouchi, Hiroko
Supporting
Makunouchi, Kazuo
Supporting
Terasoma, Masaki
Japanese
Tanaka, Masahiko
Japanese
Miyata, Father
Supporting
Ishizuka, Unshou
Japanese
Miyata, Ichirou
Supporting
Nekota, Ginpachi
Supporting
Yamadera, Kouichi
Japanese
Ramuda, Ruslan
Supporting
Kiyokawa, Motomu
Japanese
Kobayashi, Maasa
Japanese
Sakaguchi, Mr.
Supporting
Sawamura, Ryuhei
Supporting
Miki, Shinichiro
Japanese
Sendo, Takeshi
Supporting
Shimabukuro, Iwao
Supporting
Shinoda, Tomoyuki
Supporting
Umezawa, Masahiko
Supporting
Madono, Mitsuaki
Japanese
Yagi, Haruhiko
Supporting
Nakajima, Toshihiko
Japanese
Yamaguchi, Tomoko
Supporting
Zangief, Alexander Volg
Supporting
Morikawa, Toshiyuki
Japanese
Show All
Downloads
No Download available.