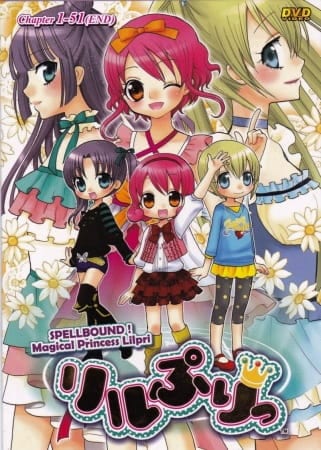 Overview:
The Fairytale World is in trouble. Its princesses and their respective worlds are disappearing, causing a ripple effect in the human world where their stories are popular. In order to save the Fairytale World, the Queen sends three magic animals, Sei, Dai, and Ryoku, to the human world with magic gems to find three girls who can become the "Super Miracle Idols," the princesses Snow White, Cinderella, and Kaguya-hime. Those "princesses" end up being three little girls: Yukimori Ringo, Takashiro Layla, and Sasahara Natsuki. But the gems transform them into older singing superstars, and after their accidental debut at the singer Wish's concert, they become known as "Little Princesses," or "LilPri." Now they must collect Happiness Tones from humans in order to restore the Fairytale World.
Rate:

PG - Children

Native:

ひめチェン! おとぎちっくアイドル リルぷりっ

Synonyms:

Himechan! Otogitic Idol Lil'Pri

Aired:

Apr 4, 2010 to Mar 27, 2011

Premiered:

spring 2010

Duration:

24 min per ep

Episodes:

51

Score:

7

Studio:

TMS Entertainment

Genre:

Shoujo
Characters and Voice Actors
Nakatsukasa, Yuuka
Japanese
Sawashiro, Miyuki
Japanese
Kakihara, Tetsuya
Japanese
Show All
Downloads
No Download available.