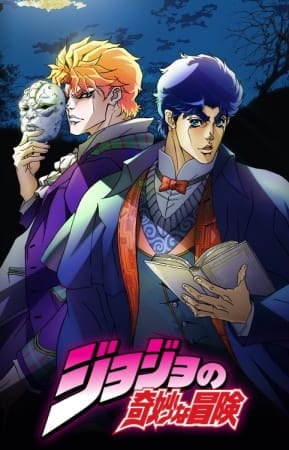 Overview:
The year is 1868; English nobleman George Joestar and his son Jonathan become indebted to Dario Brando after being rescued from a carriage incident. What the Joestars don't realize, however, is that Dario had no intention of helping them; he believed they were dead and was trying to ransack their belongings. After Dario's death 12 years later, George—hoping to repay his debt—adopts his son, Dio. While he publicly fawns over his new father, Dio secretly plans to steal the Joestar fortune. His first step is to create a divide between George and Jonathan. By constantly outdoing his foster brother, Dio firmly makes his place in the Joestar family. But when Dio pushes Jonathan too far, Jonathan defeats him in a brawl. Years later, the two appear to be close friends to the outside world. But trouble brews again when George falls ill, as Jonathan suspects that Dio is somehow behind the incident—and it appears he has more tricks up his sleeve. [Written by MAL Rewrite]
Rate:

R - 17+ (violence & profanity)

Native:

JoJo no Kimyou na Bouken (2012), JoJo's Bizarre Adventure (2012), Battle Tendency, Phantom Blood, Sentou Chouryuu, JoJo's Bizarre Adventure The Animation,JoJo no Kimyou na Bouken (TV)

Synonyms:

ジョジョの奇妙な冒険

Aired:

Oct 6, 2012 to Apr 6, 2013

Premiered:

fall 2012

Duration:

24 min per ep

Episodes:

26

Score:

7.91

Studio:

David Production

Licensors:

VIZ Media Warner Bros. Pictures

Genres:

Action Adventure Shounen Supernatural Vampire
Characters and Voice Actors
Koyasu, Takehito
Japanese
Sugita, Tomokazu
Japanese
Speedwagon, Robert E. O.
Main
Zeppeli, Caesar Anthonio
Main
Miyazawa, Tadashi
Japanese
Matsumoto, Shinobu
Japanese
Houdru00e9, Lou00efc
French
Joestar, George I
Supporting
Joestar II, George
Supporting
Rocha, Roberto
Portuguese (BR)
Kuujou, Joutarou
Supporting
Pendleton, Erina
Supporting
Kobayashi, Yumiko
Japanese
von Stroheim, Rudol
Supporting
Imaruoka, Atsushi
Japanese
Zeppeli, Mario
Supporting
Show All
Downloads
No Download available.