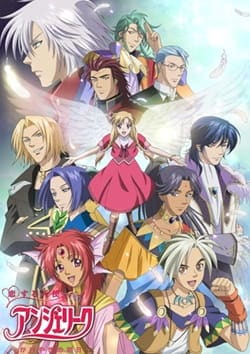 Overview:
Ange is now trapped in the Seijuu Universe, and cannot leave until she awakens Seijuu's Queen. In order to do this, she must gather nine new guardians. It sounds like a fairly simple task, but how can she convince these men to tear away from their own lives and protect the life of another?
Rate:

PG-13 - Teens 13 or older

Native:

Koi Suru Tenshi Angelique, Angelique (2007), Beloved Angel Angelique: Radiant Tomorrow, Koi Suru Tenshi Angelique: Kagayaki no Asu , Koisuru Tenshi Angelique: Kagayaki no Ashita

Synonyms:

恋する天使アンジェリーク ~かがやきの明日~

Aired:

Jan 6, 2007 to Mar 24, 2007

Premiered:

winter 2007

Duration:

24 min per ep

Episodes:

12

Score:

6.92

Producers:

Kids Station Koei

Studio:

Satelight

Genres:

Drama Fantasy Reverse Harem Romance Shoujo
Characters and Voice Actors
Collet, Angelique
Supporting
de Catargena, Rosalia
Supporting
Morikawa, Toshiyuki
Japanese
Sugita, Tomokazu
Japanese
Namikawa, Daisuke
Japanese
Limoges, Angelique
Supporting
Koyasu, Takehito
Japanese
Horiuchi, Kenyuu
Japanese
Canna, Nobutoshi
Japanese
Iwanaga, Tetsuya
Japanese
Kisaichi, Atsushi
Japanese
Tachiki, Fumihiko
Japanese
Madono, Mitsuaki
Japanese
Show All
Downloads
No Download available.