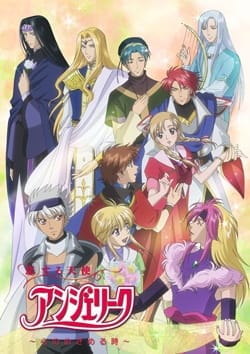 Overview:
A young girl named Ange is summoned to a Sacred Land and is chosen as the Legendary Etoile, whose mission is to save the newly-born Cosmos of the Holy Beast, which has recently fallen under a crisis. With the support of nine Guardians (who have the power of nine elements), she embarks on a journey to save the dying land of the Holy Beast and to discover her true self. (Source: ANN)
Rate:

PG-13 - Teens 13 or older

Native:

Koi Suru Tenshi Angelique, Angelique: When the Heart Awakens, Angelique (2006) , Koisuru Tenshi Angelique: Kokoro no Mezameru Toki

Synonyms:

恋する天使アンジェリーク ~心のめざめる時~

Aired:

Jul 8, 2006 to Sep 30, 2006

Premiered:

summer 2006

Duration:

23 min per ep

Episodes:

13

Score:

6.83

Producers:

Koei Lantis Media Factory

Studio:

Satelight
Characters and Voice Actors
Tanaka, Hideyuki
Japanese
Collet, Angelique
Supporting
de Catargena, Rosalia
Supporting
Mitsuishi, Kotono
Japanese
Morikawa, Toshiyuki
Japanese
Limoges, Angelique
Supporting
Koyasu, Takehito
Japanese
Horiuchi, Kenyuu
Japanese
Canna, Nobutoshi
Japanese
Show All
Downloads
No Download available.