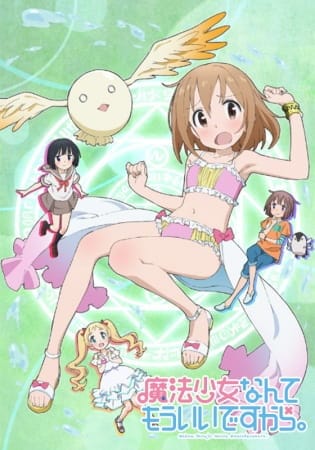 Overview:
Yuzuka Hanami is a young, carefree girl who lives the most ordinary life imaginable. Although her father works around the clock and her mother is rarely home, she still enjoys herself and strives to be an excellent student. Miton, on the other hand, is an alien life-form with the ability to transform his master into a magical girl, a warrior who fights evil wherever it may appear. However, there are not as many enemies as there used to be, so Miton has been out of work for a while. Starving and homeless, he has taken up residence in a pile of garbage. As Yuzuka walks past him one day, Miton seizes the opportunity to offer his services to the young girl. Yuzuka reluctantly agrees, but when she transforms into a magical girl and discovers that her outfit is a swimsuit, she begins to have second thoughts about what she has gotten herself into! [Written by MAL Rewrite]
Rate:

PG-13 - Teens 13 or older

Native:

I've Had Enough of Being a Magical Girl

Synonyms:

魔法少女なんてもういいですから。

Aired:

Jan 12, 2016 to Mar 29, 2016

Premiered:

winter 2016

Duration:

4 min per ep

Episodes:

12

Score:

5.93

Producers:

Earth Star Entertainment F.M.F

Studio:

Pine Jam

Genres:

Comedy Mahou Shoujo
Characters and Voice Actors
Hanami, Miyoko
Supporting
Sakagami, Chiya
Supporting
Shinogi, Mafuyu
Supporting
Yuzuka, Father
Supporting
Show All
Downloads
No Download available.