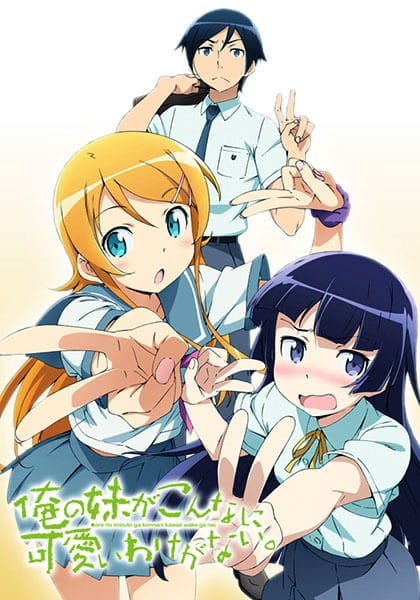 Overview:
Kirino Kousaka embodies the ideal student with equally entrancing looks. Her grades are near perfect, and to cover her personal expenses, she works as a professional model alongside her best friend Ayase Aragaki, who abhors liars and all things otaku. But what Ayase doesn't know is that Kirino harbors a deep, entrenched secret that will soon be brought to light. At home one day, Kyousuke, Kirino's perfectly average brother, stumbles upon an erotic game that belongs to none other than his seemingly flawless little sister. With her reputation at stake, Kirino places a gag order on her sibling while simultaneously introducing him to the world of eroge and anime. Through Kirino, Kyousuke encounters the gothic lolita Ruri Gokou and the bespectacled otaku Saori Makishima, thus jump-starting an entirely new lifestyle. But as he becomes more and more involved in his little sister's secret life, it becomes that much harder to keep under wraps. [Written by MAL Rewrite]
Rate:

PG-13 - Teens 13 or older

Native:

俺の妹がこんなに可愛いわけがない。

Synonyms:

My Little Sister Can't Be This Cute 2, Ore no Imouto ga Konna ni Kawaii Wake ga Nai 2

Aired:

Apr 7, 2013 to Jun 30, 2013

Premiered:

spring 2013

Duration:

24 min per ep

Episodes:

13

Score:

6.95

Producer:

Aniplex

Studio:

A-1 Pictures

Licensor:

Aniplex of America

Genres:

Comedy Otaku Culture Romance
Characters and Voice Actors
Taketatsu, Ayana
Japanese
Nakamura, Yuuichi
Japanese
Aragaki, Ayase
Supporting
Eros, Thanatos
Supporting
Evans, Bridget
Supporting
Fujima, Misaki
Supporting
Fujisaki, Ayaka
Supporting
Hoshino, Kirara
Supporting
Kousaka, Yoshino
Supporting
Kousaka, Daisuke
Supporting
Tachiki, Fumihiko
Japanese
Kurusu, Kanako
Supporting
Kurusu, Kanata
Supporting
Matsuoka, Yoshitsugu
Japanese
Makishima, Kaori
Supporting
Kuwashima, Houko
Japanese
Makishima, Saori
Supporting
Nabatame, Hitomi
Japanese
Mikagami, Kouki
Supporting
Miura, Gennosuke
Supporting
Queen of Nightmare
Supporting
Sanada, Shinya
Supporting
Tamura, Manami
Supporting
Show All
Downloads
No Download available.