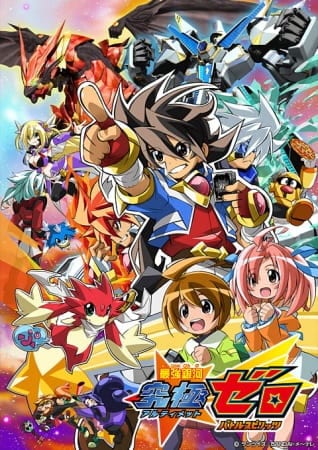 Overview:
In the new, whimsical era of Battle Spirits, cards have become scattered across a colorful galaxy, enticing all "card questers" to duke it out in search of the strongest cards. Rei is a flamboyant wanderer who is obsessed with being on top. Accompanied by a small dragon named Mugen and a talking robot named Salt, the self-proclaimed "Number One Star" regularly engages in card-gaming mischief through flashy battles. One day, Rei meets Raira and Rikuto April, both of whom seem to have clues on the whereabouts of the "ultimate" Battle Spirits card. Together, they embark on a quest to search for the card, clashing with many vibrant personalities along the way. Soon, their adventure catches the attention of the Guild, wily villains who are also set on obtaining the Ultimate Battle Spirits. In contending against the Guild, Rei's status as number one is put to the test—an endeavor that will slowly unveil secrets regarding the fate of the universe. [Written by MAL Rewrite]
Characters and Voice Actors
Nakamura, Yuuichi
Japanese
Nagareboshi no Kiriga
Supporting
Downloads
No Download available.