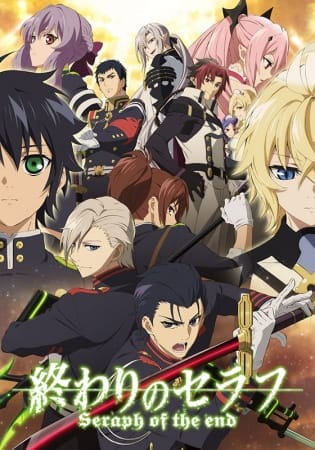 Overview:
Yuuichirou Hyakuya is finally reunited with his childhood friend Mikaela Hyakuya, whom he had long presumed to be dead. Upon their reunion, however, he discovers that Mikaela has been turned into a vampire. Determined to help his friend, Yuuichirou vows to get stronger so that he can protect Mikaela as well as the comrades in the Moon Demon Company. Kureto Hiiragi receives information that a large group of vampires will be gathering in Nagoya, preparing for their assault on the Imperial Demon Army's main forces in Tokyo. Led by Guren Ichinose, Yuuichirou's team is one of many selected to intercept and eliminate the vampire nobles. With the Nagoya mission quickly approaching, the members of Shinoa squad continue to work towards fully mastering their weapons, while learning how to improve their teamwork. Yuuichirou must gain the power he needs to slay the nobles and save his best friend, before he succumbs to the demon of the Cursed Gear. [Written by MAL Rewrite]
Rate:

R - 17+ (violence & profanity)

Native:

終わりのセラフ 名古屋決戦編 , Owari no Seraph 2nd Season, Seraph of the End 2nd Season , Owari no Seraph: Nagoya Kessen-hen , Seraph of the End: Battle in Nagoya

Aired:

Oct 10, 2015 to Dec 26, 2015

Premiered:

fall 2015

Duration:

23 min per ep

Episodes:

12

Score:

7.62

Producers:

NBCUniversal Entertainment Japan Shueisha

Studio:

Wit Studio

Licensor:

Funimation
Characters and Voice Actors
Nakamura, Yuuichi
Japanese
Okamoto, Nobuhiko
Japanese
Yamamura, Hibiku
Japanese
Bathory, Ferid
Supporting
Sakurai, Takahiro
Japanese
Eusford, Crowley
Supporting
Suzumura, Kenichi
Japanese
Hanayori, Sayuri
Supporting
Tanezaki, Atsumi
Japanese
Hiiragi, Kureto
Supporting
Hiiragi, Shinya
Supporting
Suzuki, Tatsuhisa
Japanese
Hiiragi, Seishirou
Supporting
Yoshino, Hiroyuki
Japanese
Hiiragi, Tenri
Supporting
Hiiragi, Mahiru
Supporting
Iwasaki, Shuusaku
Supporting
Hirakawa, Daisuke
Japanese
Kagiyama, Tarou
Supporting
Hoshino, Takanori
Japanese
Kobayashi, Yumiko
Japanese
Kimizuki, Mirai
Supporting
Kurosawa, Tomoyo
Japanese
Kurosawa, Tomoyo
Japanese
Kusunoki, Eita
Supporting
Yamashita, Seiichirou
Japanese
Narumi, Makoto
Supporting
Hosoya, Yoshimasa
Japanese
Simm, Renu00e9
Supporting
Umehara, Yuuichirou
Japanese
Nagatsuka, Takuma
Japanese
Koyasu, Takehito
Japanese
Yukimi, Shigure
Supporting
Show All
Downloads
No Download available.
Tags: 4anime, 9anime, anime dao, anime tv, anime x play, animedao, animeflix, animekisa, animepahe, animixplay, dubbed anime, free anime, gogoanime, kickassanime, kiss anime, kissanime, netflix anime, new anime, Owari no Seraph 2nd Season, Owari no Seraph: Nagoya Kessen-hen, Seraph of the End 2nd Season, Seraph of the End: Battle in Nagoya, watch anime free, watch anime free online, watch anime online, zoro anime, zoro.to, zoro.to anime, 終わりのセラフ 名古屋決戦編