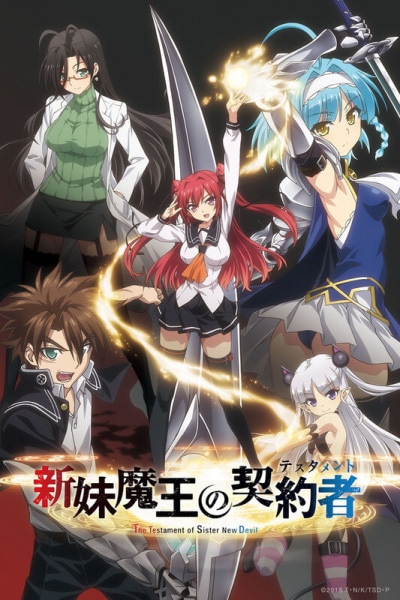 Overview:
Running into your new stepsister in the bathroom is not the best way to make a good first impression, which Basara Toujou learns the hard way. When his father suddenly brings home two beautiful girls and introduces them as his new siblings, he has no choice but to accept into his family the Naruse sisters: busty redhead Mio and petite silver-haired Maria. But when these seemingly normal girls reveal themselves as demons—Mio the former Demon Lord's only daughter and Maria her trusted succubus servant—Basara is forced to reveal himself as a former member of a clan of "Heroes," sworn enemies of the demons. However, having begun to care for his new sisters, Basara instead decides to protect them with his powers and forms a master-servant contract with Mio to keep watch over her. With the Heroes observing his every move and the constant threat of hostile demons, Basara has to do the impossible to protect his new family members. Moreover, the protector himself is hiding his own dark secret that still haunts him to this day... [Written by MAL Rewrite]
Rate:

R+ - Mild Nudity

Native:

新妹魔王の契約者〈テスタメント〉, Shinmai Maou no Keiyakusha , Shinmai Maou no Testament , The Testament of Sister New Devil

Aired:

Jan 8, 2015 to Mar 26, 2015

Premiered:

winter 2015

Duration:

23 min per ep

Episodes:

12

Score:

6.72

Studio:

Production IMS

Licensors:

Crunchyroll Funimation
Characters and Voice Actors
Bridcutt, Sarah Emi
Japanese
Nakamura, Yuuichi
Japanese
Hasegawa, Chisato
Supporting
Hayase, Takashi
Supporting
Okitsu, Kazuyuki
Japanese
Nonaka, Kurumi
Supporting
Sakazaki, Mamoru
Supporting
Nishihara, Kumiko
Japanese
Shiba, Kyouichi
Supporting
Hirakawa, Daisuke
Japanese
Takigawa, Yahiro
Supporting
Sugita, Tomokazu
Japanese
Show All
Downloads
No Download available.
Tags: 4anime, 9anime, anime dao, anime tv, anime x play, animedao, animeflix, animekisa, animepahe, animixplay, dubbed anime, free anime, gogoanime, kickassanime, kiss anime, kissanime, netflix anime, new anime, Shinmai, Shinmai Maou, Shinmai Maou no, Shinmai Maou no Keiyakusha, Shinmai Maou no Testament, The Testament of Sister New Devil, watch anime free, watch anime free online, watch anime online, zoro anime, zoro.to, zoro.to anime, 新妹魔王の契約者〈テスタメント〉