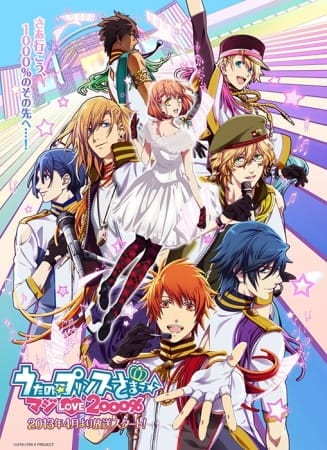 Overview:
Entering her Master's course, Nanami Haruka is facing an even more difficult time. And she isn't the only one. The main six members of Starish are assigned new seniors to watch over them! But the seniors aren't having the best attitudes about it. Watch Uta no☆Prince-sama♪ Maji Love 2000% and find yourself completely engaged in a whole new adventure mixed in with comedy and romance!
Characters and Voice Actors
Toriumi, Kousuke
Japanese
Suzumura, Kenichi
Japanese
Terashima, Takuma
Japanese
Sawashiro, Miyuki
Japanese
Taniyama, Kishou
Japanese
Hyuuga, Ryuuya
Supporting
Jinguuji, Seiichirou
Supporting
Kotobuki, Reiji
Supporting
Morikubo, Shoutarou
Japanese
Kurosaki, Ranmaru
Supporting
Suzuki, Tatsuhisa
Japanese
Ootori, Eiichi
Supporting
Midorikawa, Hikaru
Japanese
Ootori, Raging
Supporting
Sugita, Tomokazu
Japanese
Saotome, Shining
Supporting
Shibuya, Tomochika
Supporting
Sumeragi, Kira
Supporting
Tsukimiya, Ringo
Supporting
Nakamura, Yuuichi
Japanese
Show All
Downloads
No Download available.