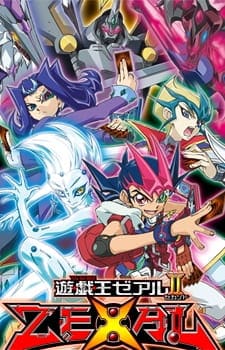 Overview:
After defeating a mysterious enemy, Yuuma Tsukumo, along with the help of Kaito Tenjou and Ryouga "Shark" Kamishiro, has thwarted the Barians' plans. However, Yuuma is still on a quest to retrieve the Number Cards to restore Astral's memories. The Seven Barian Emperors catch wind of Yuuma and Astral's endeavors and begin to collect the cards themselves to achieve their ultimate goal: destroying Astral's world in exchange for saving their own. Though only five of the emperors are present, they unanimously decide on annihilating Astral and Yuuma once and for all. Elsewhere, with their newfound powers of ZEXAL, Astral and Yuuma work to eliminate the enemy force that threatens Earth and the rest of the universe. Yu☆Gi☆Oh! Zexal Second unveils the mysteries and unpleasant surprises that lie in the wake of Yuuma's adversities. As Astral struggles to accept his past and the consequences it may have brought, will the gods continue to shower their fortune upon Yuuma on yet another perilous adventure? [Written by MAL Rewrite]
Characters and Voice Actors
Hatanaka, Tasuku
Japanese
Sasaki, Katsuhiko
Japanese
Ariga, Chitaro
Supporting
Miyamoto, Mitsuru
Japanese
Hirakawa, Daisuke
Japanese
Nakagawa, Keiichi
Japanese
Hosoya, Yoshimasa
Japanese
Jinguuji, Mamoru
Supporting
Okitsu, Kazuyuki
Japanese
Katagiri, Daisuke
Supporting
Yasuhara, Yoshito
Japanese
Kosugi, Juurouta
Japanese
Okudaira, Fuuya
Supporting
Omoteura, Tokunosuke
Supporting
Shiraishi, Ryouko
Japanese
Akaboshi, Shoichiro
Japanese
Matsuda, Kenichirou
Japanese
Shingetsu, Rei
Supporting
Takada, Tetsuo
Supporting
Tenjou, Haruto
Supporting
Todoroki, Takashi
Supporting
Tsukumo, Akari
Supporting
Tsukumo, Mirai
Supporting
Tsukumo, Kazuma
Supporting
Yamamoto, Shouma
Japanese
Yamamoto, Shouma
Japanese
Show All
Downloads
No Download available.